By Erin Milburn on Tuesday, October 13th, 2015
After an impressive summer, Twin Cities home sales continued at a 10-year record pace in September. Most indicators are beginning to show month-to-month moderation although year-over-year comparisons remain positive. The number of closed sales rose 12.0 percent to 5,114 homes. Fewer sellers listed their properties than last September, as new listings decreased 6.9 percent to 6,355. Inventory levels fell 16.0 percent to 15,928 active units. Prices continued to rise with the median sales price up 8.3 percent over last year.
Other price measures also continued to perform well. The median list price rose 2.1 percent to $245,000; while the average price per square foot rose 6.3 percent to $129. Sellers enjoyed their position of strength in the marketplace as the percent of original list price received at sale rose 1.0 percent to 96.6 percent. At 4,635 contracts signed, pending purchase activity also remains strong—12.3 percent above last September's levels. On average, homes sold in less time. Days on market declined 8.5 percent to 65 days. This is consistent with a market leaning slightly towards sellers. Months supply of inventory fell a significant 26.1 percent to 3.4 months of supply. Generally, five to six months of supply is considered balanced. While the metro as a whole is favoring sellers, not all areas, segments and price points reflect that.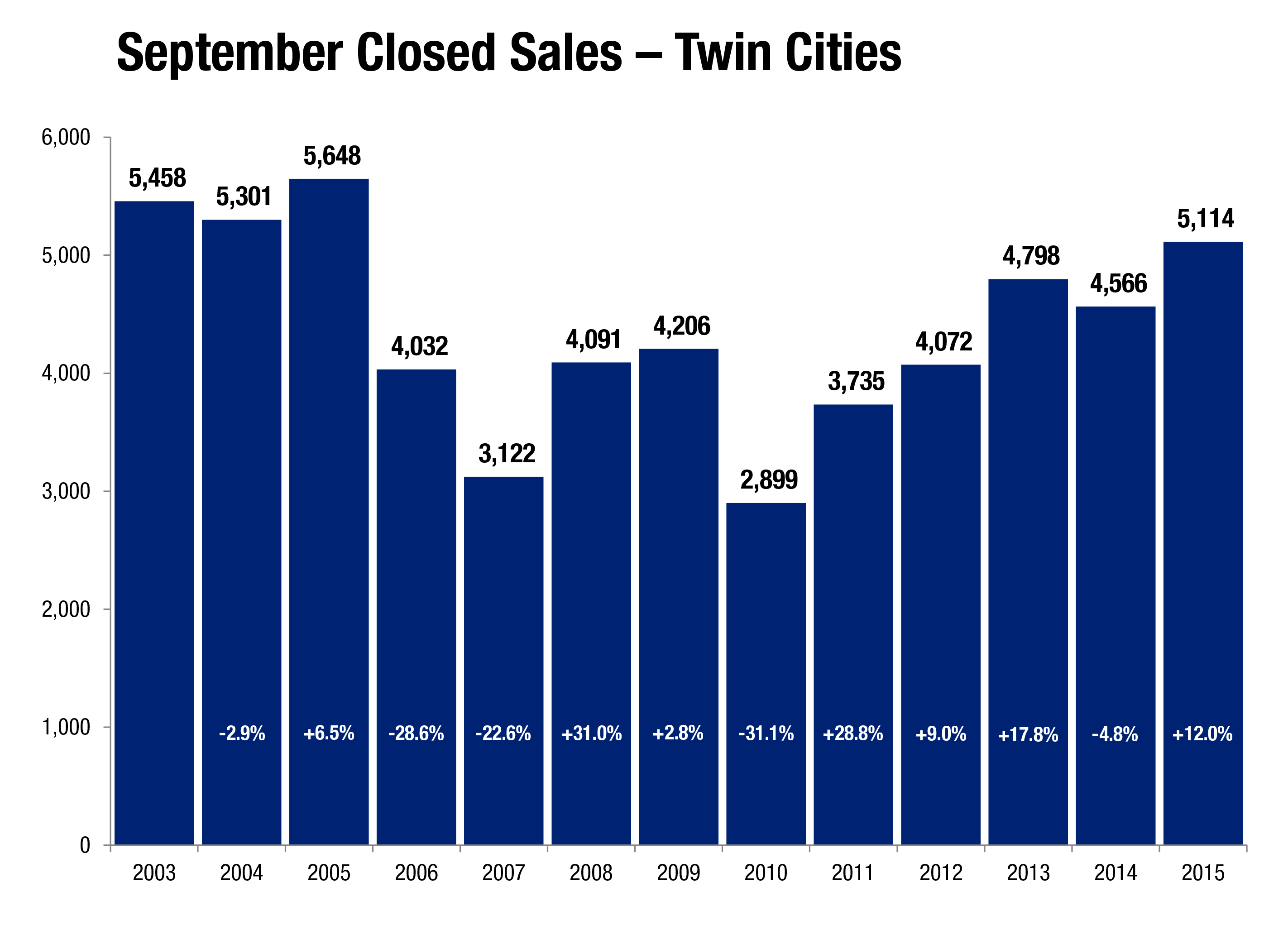 "September was another strong month for buyer activity," said Mike Hoffman, Minneapolis Area Association of REALTORS® (MAAR) President. "Seller activity, however, remains restrained, meaning those who do choose to sell are getting top dollar in near-record time. The demand for homes is still exceeding the supply."
Strong demand and low supply levels have created an environment where competitively-priced homes sell quickly and sometimes with multiple offers. This supply-demand imbalance, along with the "product mix shift" back to traditional sales, also means prices have risen for 43 consecutive months. The September 2015 median sales price rose 8.3 percent to $222,000 compared to a year-to-date increase of 6.8 percent to $220,000. Sellers are accepting offers at a median of 99.2 percent of their final list price.
Since housing doesn't occur in a vacuum, it depends on other economic forces like a recovering labor market, job growth, favorable interest rates and confident consumers. Those factors have helped support our recovering housing market. We're in the midst of the longest stretch of private job growth on record, unemployment has been cut in half from its peak and consumer confidence is rising. The latest Bureau of Labor Statistics figures show the Minneapolis-St. Paul-Bloomington metropolitan area had the second lowest unemployment rate of any major metro at 3.3 percent compared to 5.1 percent nationally. Mortgage rates are around 4.0 percent, compared to a long-term average of over 7.0 percent. The Federal Reserve is committed to lifting their key Federal Funds rate, a major factor affecting mortgage rates.
"We expect interest rates to stay below their long-term average for years to come," said Judy Shields, MAAR President-Elect. "The trick will be sustaining price gains that motivate enough sellers to list their properties without pricing out today's buyers—particularly first timers."
From The Skinny Blog.