By Aubray Erhardt on Tuesday, July 19th, 2016
The June 2016 median sales price for residential properties has reached a new all-time high, eclipsing the previous June 2006 record of $238,000. This measure of home prices rose 5.3 percent from June 2015 to $242,000. Seller activity rose 0.5 percent since last June to 8,727 new listings. Sales activity was roughly even with last year. Closed sales increased a modest 0.2 percent while pending sales—the number of signed purchase agreements—fell 0.7 percent. Buyers signed 6,175 new contracts and closed on 7,094 homes. That's the highest volume of closed sales for any month going back to June 2004, a 12-year high. Mostly due to inventory constraints, prospective sellers are concerned about their ability to secure their next property in the current environment. June offered little supply-side relief, as inventory levels fell 18.2 percent to 14,214 active properties. Despite the attempt, consistent inventory shortages haven't slowed down buyers much, given closed sales at a 12-year high.
Low inventory has helped draw out stronger offers. The average percent of original list price received at sale was 98.7 percent in June, the highest figure for any month since May 2005. Low levels of for-sale housing also means the homes on the market tend to sell quickly. Cumulative days on market until sale fell 16.7 percent to 55 days. That's the fastest market time for any month since the beginning of 2007. Months supply of inventory fell 23.7 percent to 2.9 months—the lowest June figure on record going back to the beginning of 2003. Generally, five to six months of supply is considered a balanced market. While the metro as a whole is favoring sellers, not all areas, segments or price points necessarily reflect that. Market conditions are encouraging some sellers but not enough to fuel the demand seen in recent months.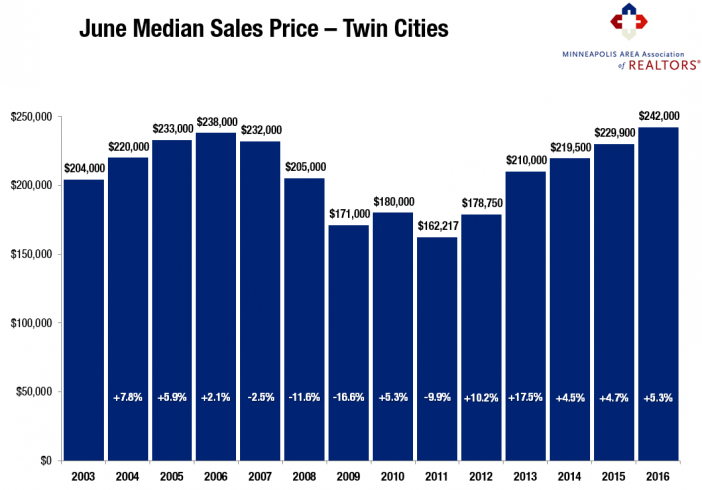 "Prices returning to 2006 levels is nothing to fear," said Judy Shields, Minneapolis Area Association of REALTORS® (MAAR) President. "This market is grounded in good fundamentals: supply and demand, smarter lending standards, job and wage growth, population growth, healthier household finances and rising rents. In the lead-up to 2006, home prices were driven by irrational exuberance and lax lending standards."
A healthy Twin Cities labor market has also been conducive to our housing recovery. The most recent national unemployment rate is 4.9 percent, though it's 3.1 percent locally. The Minneapolis-St. Paul-Bloomington metropolitan area has the third lowest unemployment rate of any major metro area. The fact that lower-priced foreclosures and short sales comprise a shrinking share of sales activity also helps with the recovery. Traditional (non-lender-mediated) properties made up 95.0 percent of all closed sales—the highest level in almost 10 years.
For the time being, the risk of higher interest rates seems to have subsided after "Brexit" and in light of other global economic concerns. Locally, the 30-year fixed mortgage rate fell to 3.5 percent compared to a long-term average of about 8.0 percent. Rates are now at their lowest level in three years. Marginally higher rates were widely expected in 2016, but further rate hikes are unlikely for the duration of the year.
"It shouldn't be all that surprising that we're back to where we were ten years ago," said Cotty Lowry, MAAR President-Elect. "The forces behind this recovery are far more sustainable than last time. Clearly the Twin Cities economy is booming, even though buyers are still eager for more listings."
From The Skinny Blog.