By Erin Milburn on Tuesday, July 18th, 2017
Despite the decelerating gains in buyer activity, June 2017 was a new record high for home sales in the Twin Cities. Compared to last June, closed sales in the metro rose 2.2 percent to reach a new high of 7,430 units. Meanwhile, pending sales only showed a 0.2 percent gain and new listings fell 0.5 percent. Persistently low inventory levels are keeping some would-be buyers out of the market. The number of homes for sale fell 16.5 percent to 12,464 active listings in the metro. Declining foreclosure and short sale activity can contribute to market-wide declines. For example, within the traditional segment, new listings rose 1.6 percent and pending sales rose 2.4 percent.
Prices are still marching higher. In fact, the median sales price rose 7.0 percent from last year to $259,000—a new record high. Home prices have now risen for the last 64 consecutive months. At 47 days on average, homes went under contract 16.1 percent faster than last June. However, half the homes that went under contract in June took less than 20 days to do so. The average percent of original list price received at sale was 99.5 percent, 0.8 percent higher than June 2016. Similarly, the median percent of original list price received at sale was 100.0 percent, meaning half the sales closed for over list price. The metro area has a sparse 2.5 months of housing supply—the lowest June reading since 2003. Generally, five to six months of supply is considered a balanced market where neither side has a clear advantage.
"The numbers confirm what agents already know about this market," said Cotty Lowry, Minneapolis Area Association of REALTORS® (MAAR) President, "We are still very thirsty for listings. That means sellers who list well-presented, well-priced homes are being rewarded, and they're finding the move-up market to be less competitive."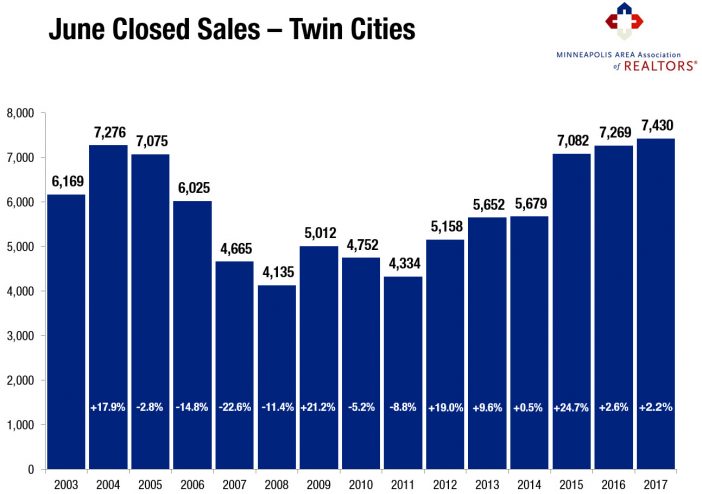 A thriving and diverse local economy has been conducive to housing recovery, as job growth is key to new household formations. The most recent national unemployment rate is 4.4 percent, though it's 3.7 percent locally. The Minneapolis–St. Paul region has a resilient economy with a global reach, a talented workforce, top notch schools and a quality of life that's enabled one of the highest homeownership rates in the country.
The average 30-year fixed mortgage rate has declined from 4.3 percent to 4.0 percent recently, still well below its long-term average of about 8.0 percent. Excluding any surprising data or events, the Federal Reserve is likely to increase their target federal funds rate at least once more this year. Wage and inventory growth are key to offsetting affordability declines brought on by higher rates and rising prices.
"Although supply is tight, attractive and competitively-priced homes remain in high demand," said Kath Hammerseng, MAAR President-Elect. "But even as construction activity recovers somewhat, wage and housing supply growth remain key to balancing out affordability concerns."
From The Skinny Blog.